Jewellery Pop Up with Susan Cross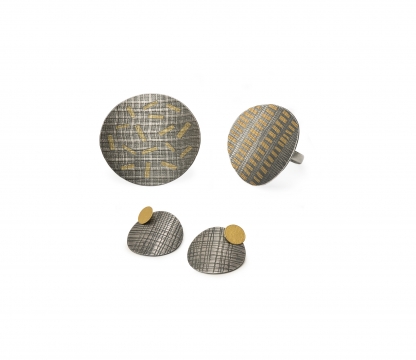 http://www.flowgallery.co.uk/portfolio/susan-cross
linen print rings & earrings: silver, 22ct & 18ct gold
16 November - 16 January 2019.
Flow Gallery
1-5 Needham Rd,
London W11 2RP
T: +44 20 7243 0782
E: info@flowgallery.co.uk
Opening times:
Tuesday - Saturday 11-6
Monday by appointment
Sunday closed

Susan Cross will be showing a collection of jewellery at Flow Gallery, London from 16 November until 16 January 2019.
Susan is well known for her distinctive jewellery inspired by textile techniques and this collection of new work focuses on the 'drawn thread' technique. Following the careful selection and removal of both warp & weft threads, the woven linen cloth is then embossed into silver sheet, often inlayed with 18ct green or 22ct gold.
This exhibition includes: pendant neckpieces, rings, earrings and brooches.
Prices range from: £338 - 1'196
For further details please contact the gallery.