2010s : Cuando parti una manana de verano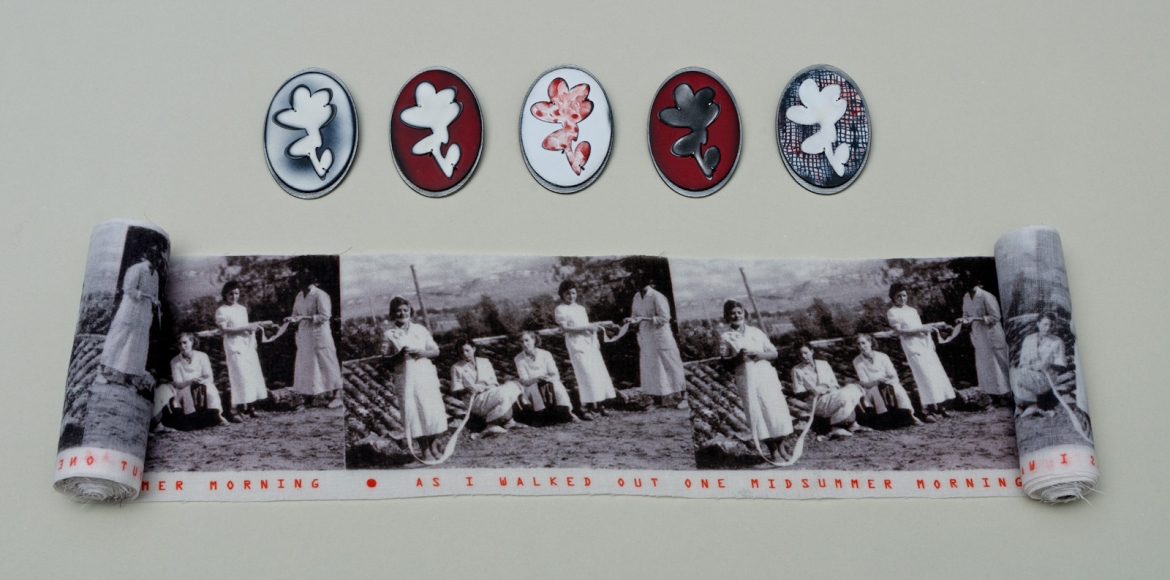 'Cuando parti una manana de verano' - Brooches:
enamel, steel, ox.silver, textile.
55 x 38mm
'Cuando Parti Una Manaña De Verano'
('As I Walked Out One Midsummer Morning')
Researching into the Spanish Civil War (1936-39) led me to find this black & white photograph* of five volunteer nurses taken in Spain. Both the nurses and location are unknown. As supplies ran low the task of washing, folding and rolling bandages for re-use would have been a necessity. 
The Spanish Civil War was costly in terms of human lives. It was a 'testing ground' for modern military warfare that was subsequently employed in World War 2.The bombing of the city Guernica is considered one of the first raids in the history of modern military aviation on a defenceless civilian population.
In response to this poignant photograph I wanted to make each of these women a medal (brooch) - that in particular draws attention to the vital roles that women have played, and still play, in times of war.  Women; are all too often overlooked and undervalued, unsung heroes in times of crisis and conflict. 
In Picasso's Guernica, 1937, there is a white flower tucked away at the centre bottom of the painting - the flower is being symbolically planted into the earth representing rebirth and regeneration. It is the powerful symbolism of this flower that inspired the motif for each of the enamelled medals created in honour of these women.
The title of this piece of work references Laurie Lee's autobiography 'As I walked out one midsummer morning'. Lee, writer, poet and artist from Slad, Gloucestershire set out to walk to Spain to support the International Brigade when he was just 19 years old. His moving account of both historical time and geographical place made through this journey and the conflicts he experienced make for compelling reading.