Ness of Brodgar collection for Ola Gorie, Orkney, Scotland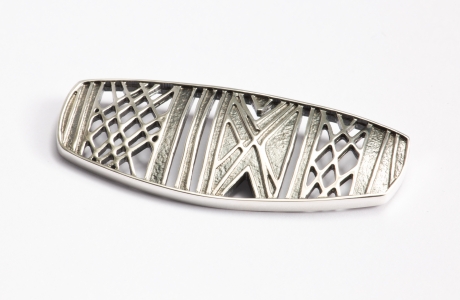 NESS OF BRODGAR  - treasures of our past uncovered.
Brooch, silver (23mm x 55mm)
Double Pendant, 9ct rose gold, silver (5mm x30mm & 8mm x35mm)
Chain: 16" omega wire
photography: Fiona Stephen
During the past year I have designed a new collection of gold & silver jewellery for Ola Gorie, Orkney.
Invited to work in collaboration with both Ola Gorie & Ingrid Tait, this collection takes as its inspiration 5,000-year-old archeological findings unearthed from the Ness of Brodgar; an extraordinary excavation that lies central to ancient ceremonial sites on mainland Orkney, Scotland. http://www.nessofbrodgar.co.uk
Intricate rock carvings have inspired this range of pendant necklaces, earrings, brooch and a ring. Launched during the summer of 2016 this collection is now available to see and buy either online at:
https://www.olagoriejewellery.com/collections/ness-of-brodgar
and from: Ola Gorie Jewellery, 7-15 Broad Street, Kirkwall, Orkney.