Heat Exchange II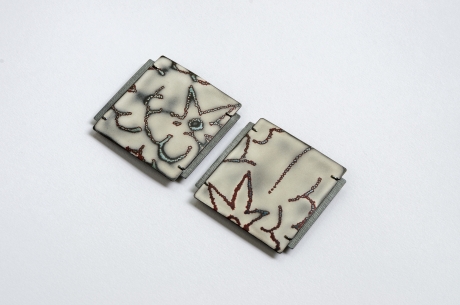 Crimson Trace l & ll 2015 - Brooches
enamel, steel, oxidized silver
60mmx60mm
[Photo: Michael Wolchover]
New work for this exhibition references research study of Elizabethan blackwork embroidery dating from the late 16th early 17th Century period.
The self-destructing nature of the dyed black thread (through corrosion) has over time left traces of the needle point on finely woven white linen. It is these qualities that have inspired a new collection of work in enamel.
Heat Exchange 2 is curated by artists Beate Gegenwart and Elizabeth Turrell, inviting artists to focus on the continuing exploration of vitreous enamel as an exciting, progressive medium with innovative opportunities for the contemporary maker.
Craft in the Bay, Cardiff from 12th September '15 to 8th November '15

Fife Contemporary Art & Craft, St. Andrews Museum, Scotland from 12th December '15 to 28th February '16

Gallery Waidspeicher, Kulturhof zum Guldenen Kronbacken, Erfurt, Germany from 19th March '16 to 1st May '16

Bayerischer Kunstgewerbe-Verein (Gallery for Applied Arts), Munich, Germany from 20th May '16 to 2nd July '16