2010s : Badges & Buttons - Waistcoats & Vests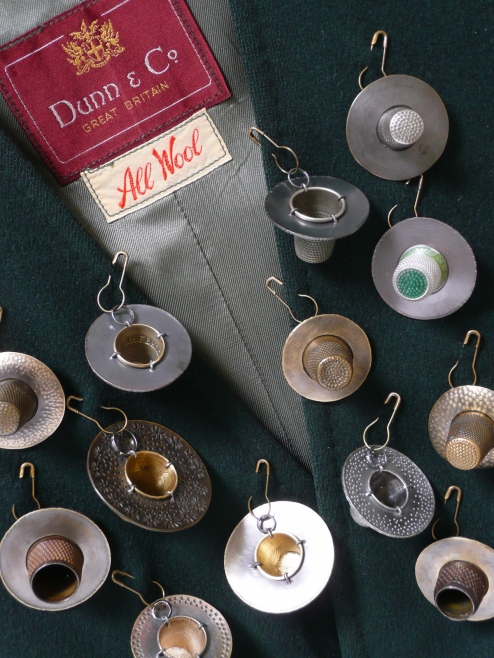 Badges & Buttons - Waistcoats & Vests - Brooches:
Mixed Metals
Edinburgh has many fascinating vintage clothes emporiums.
Having been invited to participate in this unusual project my starting point was inspired by finding this bottle green woollen waistcoat circa 1950. Dunn & Co were a well known, traditional gentleman's outfitters in the UK.
Dunn & Co was founded in 1886 by George Arthur Dunn, a Quaker who started by selling hats on the streets of Birmingham. Forty years later he had 200 hat shops and as many franchises in other department stores. These gradually developed into a string of high street shops specializing in formal wear, especially suits, blazers and flannels.
Mr Dunn was a modern thinker, being the first to own a combine harvester and open a vegetarian hotel here in Britain. He died in 1939.
I was interested to discover that the company started out originally as hatters and thus the idea evolved for this project …. to use old thimbles that are a traditional tool for the tailor and to turn them into 'badges' inspired by the distinctive Quaker hat.  
Susan Cross
June 2012